SMG Business Services Offers Exclusive Benefits to Maximize Profits

SMG Business Services is one of the select few, nationwide, that have received a certification in Profit First.
What does this mean for you?
We will guide you with the methods to greatly increase the profitability of your business. Of course, we will manage your accounting, do your tax returns and help you with your books - but any accountant or bookkeeper can do that. We also provide the most important financial factor - maximizing your profits. We would love to show you how to drive profitability into your business.
Give us a call today or fill out the short form on your screen to learn more!
What Makes Profit First Professionals Different?
Profit First Professionals was created in 2014 to help accountants, bookkeepers, and business coaches escape the compliance trap and start making more of a difference for their clients. Using the principles documented in the book, Profit First, co-founders Mike Michalowicz and Ron Saharyan created a one-of-a-kind membership organization. Profit First Professionals members soon became highly sought after providers of strategic financial, operational, and personal guidance for business owners around the world.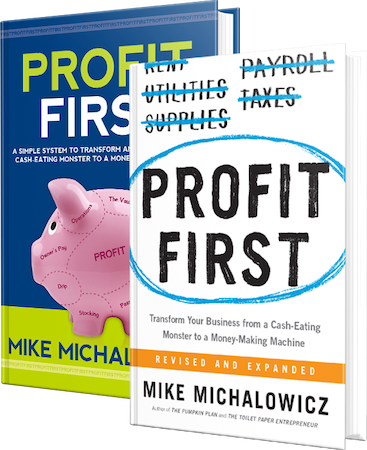 As a Profit First Professional member, our team here at SMG Business Services continues to grow their reputation as elite professionals. By leveraging the education and resources provided through membership, we strive to build thriving, highly profitable businesses for all of our clients. Other certified Profit First Professionals have become influential authors, podcast hosts, guests, bloggers, radio hosts, and can often be seen on television.
As a certified member, SMG Business Services can help you:
Stand out from the competition
Drive and maximize profits
Serve your clients like never before